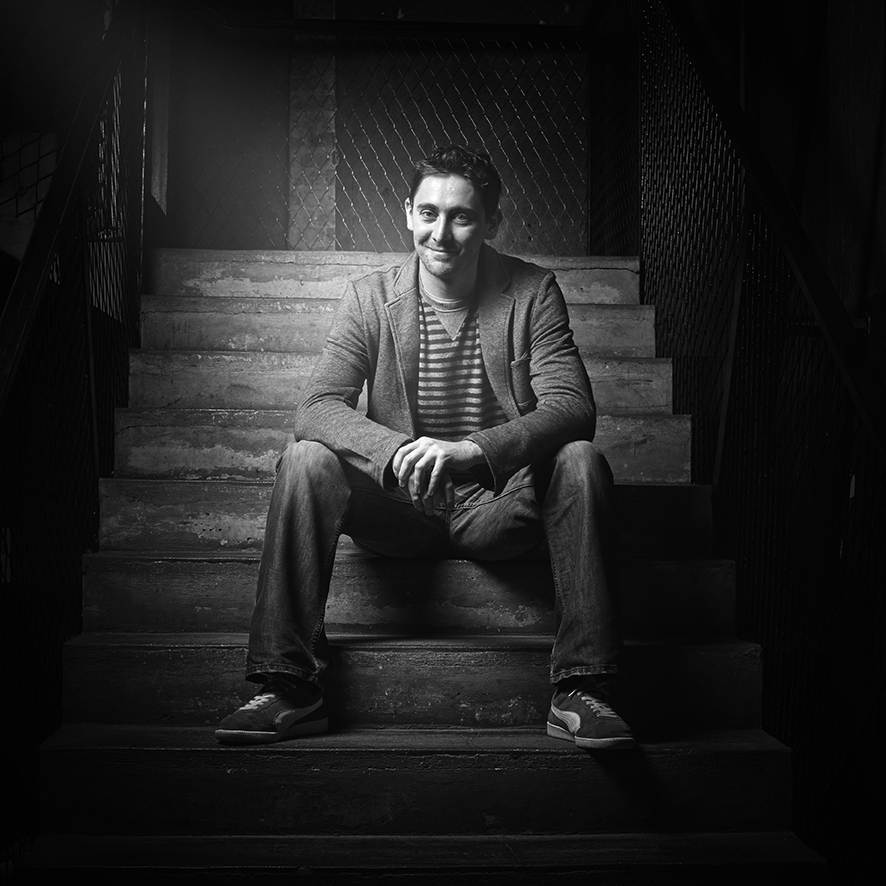 Sebastien Carfora was born in Italy in 1978. In 2001 he obtained his Masters in History and Crictics of Cinema at the Turin University, and he began working as a film editor at CKS Casasonica. Later on, he worked for one year as video operator for RAI, a highly reputable Italian TV channel, and made his first short films, "," and "Zen Guerrilla". In 2002 he moved to Paris, France, to study at the ESEC (Ecole d'Etudes Supérieures Cinématographiques), where he obtained his diploma in 2004 and started his career as a videographer for his first client, the EiB School. These videos gave him the opportunity to direct his first short movies and music clips. He also started a documentary about Paris catacombs : "A walk beneath the souls", produced by Horya Films. After six years of work, the documentary was completed in 2008, with the support of CNC. Channel 4, showed a huge interest for it and asked for two short documentaries about the same theme. In the meanwhile, his short movie « The first time » won some awards in French and Italian movie festivals and Sebastien began creating corporate videos with different agencies and production companies (Havas Enterteinment, LDA et RC1) for prestigious clients as EDF, Guerlain, Nespresso, Chanel, Hennessy, Adidas and JA Europe.
In 2009 he made two new short movies: "Palak Panner", produced by Chelly Films, and especially "Howl of a fish", produced by La Luna Productions. This movie was hugely successful all around the world. It won many awards in some of the most important short movie festivals globally (Clermont Ferrand, Los Angeles, Barcelona, Rome…) and it was sold to Canal + and to many other TV channels internationally. Since then, he has been making corporate videos and commercials (for various clients, namely: EDF, Hyundai, Johnson & Johnson, Bouygues Telecom, Volkswagen, Atlantic, Goodman, Carrefour, Decathlon, Zalando, eBay, Skillogs, Wenko, Boston Scientific, JA Europe…).
He also has a new short movie, "Inside the wardrobe", that won the Best Movie Award in Liverpool international independent film festival and in Los Angeles Jelly Film Festival (and was also selected at Foyle Film Festival and Courts en plein air in Grenoble) and published on his site some personal projects, such as the videos "Not about just going fast" and "Iceland, a thing of beauty" and a collection of video portraits, called "Words, souls, professions".
Filmography
Fiction
"Dans l'armoire (Inside the wardrobe)" – La Luna Productions – 2017
"Hurlement d'un poisson (Howl of a fish)" – La Luna Production – 2010
"Palak Panner" – Chelly Productions – 2010
"La première fois (The first time)" – 2004
"Zen Guerrilla" – 2002
"," – 2000
Commercials
"Fleury Michon – Surimi" – Fastprod – Agence Pixelis – 2022
"Alcasté (4 spots)" – 2022
"Metz Auktion" (4 spots) – MFG Mediengruppe – 2021
"Sécurité Sociale – Je suis ce que je fais" (4 spots) – Fastprod – Agence Newday – 2021
"Boston Scientific – Now You hear me (3 spots)" – Fastprod – Agence Creative Spirit – 2020
"Skillogs"- Fastprod – 2020
"Atlantic – Solution Connected"- Fastprod – 2019
"Skillogs – Bachelor Foodtech" – 2019
"Skillogs – Free Academy" – 2019
"Wenko – Cuisine" – Fastprod – 2017
"Wenko – Salle de bain" – Fastprod – 2017
"Iceland/A thing of beauty" (projet personnel) – 2016
"Not about just going fast" (projet personnel) – 2016
"Groupe Lactalis – Istara (maquette)" – PIW – Agence DDB – 2016
"Groupe Lactalis – Primevère Président (Craquages)" – PIW – Agence DDB – 2015
"Groupe Lactalis – Primevère Président (Jour+1)" – PIW – Agence DDB – 2015
"Wolkswagen Foot" – PIW – Agence DDB – 2014
"Bouygues – Lancement de la 4G" – PIW – Agence DDB – 2013
"Paris Pocket ((4 spots))" – 2013
"Hyundai – Expérience Exceptionnelle" – 2013
"EDF – Une rivière, un territoire" – 2011
"JA-YE – Youth and innovation" – 2009
Corporate
"Skillogs – Condorcet"-2019
"Skillogs – Acarya"-2019
"Goodman – Carrefour First stone" – 2016
"Goodman – Goodman et Carrefour" – 2016
"Goodman – Goodman et Zalando" – 2016
"Goodman – Goodman et Goodman" – 2017
"Goodman – eBay in Halle" – 2015
"Davison & Highley" – 2012
"EiB – Lamartine" – 2012
"EiB – Margueritte" – 2012
"EiB – Monceau" – 2012
"EiB – Victor Hugo" – 2012
"EiB – Etoile" – 2012
"EiB" – 2012
"Johnson & Johnson – 5 Conversations Model" – 2011
"Hennessy – VSOP Luxury Stopper" – Amiral Production – 2009
"Hennessy– Fine de Cognac Luxury Stopper" – Amiral Production – 2009
"Chanel – Chanel n.5 Eau Première" – 2008
"Guerlain – Lotus Noir – code name" – Amiral Production – 2008
"Guerlain – Gold – code name" – Amiral Production – 2008
"Adidas – Impossible is nothing à la Defense" – Production Havas Streampower – 2007
"Adidas– Impossible is nothing à la Defense – Making of" Production Havas Streampower – 2007
"EDF – Accès à l'énergie des pays en développement" – RC1 Production – 2007
"Heurgon" – 2007
Animation
"JA Europe – Icee 2016" – 2016
"First basketball lesson"- Adidas (projet personnel) – 2015
"ESP Programme"- JA Europe – 2014
"JA-YE – Changing lives teaser" – 2012
"Kiss" – Courant d'art frais – 2011
"Siparium" – Courant d'art frais – 2011
"Vieux film" – Courant d'art frais – 2011
"Zephirette" – Courant d'art frais – 2011
"Sugar Clouds prod" – 2007
"This is my school" – EiB – 2006
"EaBd" – EiB – 2006
Documentary
"Des mots, des âmes, des métiers – Thomas Bastide" – 2020
"Des mots, des âmes, des métiers – Max Casacci" – 2020
"JA Europe – The Company Program"- 2020
"Des mots, des âmes, des métiers – Saint Oma" – 2019
"Promenade en dessous des Ames" – 2009
"Souls in the dark" – 2008
"Jean Talairach – Memories of a Resistance underground" – 2008
Event
Hundreds of vidéos for JA Europe – 2009/2022
"Atelier de marionnettes géantes" – Courant d'art frais – 2014
Music Clips
"Bande Originale – Je suis le rap" – 2009
"Inti – Roots'n' Roll" – 2007
"I'm not Bob Dylan" – 2007
"Grands Corps Malade – Les voyages en train" – 2006
"Foli – Des Illusions " – 2005
"Foli – Voilà l'été" – 2004
"Follia" – 2001
Prizes
Awards for the short movie "La première fois (The first time)" :
2004
Oscarino Best School Short Movie, Italy
Fédération Française Vidéo Award at Le Francilien Festival, France
Best Photography at Nettuno Film Festival, Italy
Young Jury Award at Reggiofilmfestival, Italy
Targa Zavattini Award at Reggiofilmfestival, Italy
Mention at Fano Film Festival, Italy
Awards for the short movie "Hurlement d'un Poisson" :
2010
Young Jury Award at St Paul des 3 Châteaux Festival, France
Audience Award at Paris Courts Devant Festival, France
Best Actor (Florent Cheippe) at Paris Courts Devant Festival, France
Coup de Coeur du Jury Jeune Award at Jean Carmet Festival, Moulins-sur-Alliers, France
Audience Best Actor (Florent Cheippe) at Jean Carmet Festival, Moulins-sur-Alliers, France
Grand Prix of the Jury for the Best Movie at Badalona Fimets Festival, Spain
2011
Best Actor at Clermont-Ferrand Festival, France
Web Tv Numericable Award at Cinérail Festival, Paris, France
Best Fiction Mention at Aubagne Festival, France
Grand Prix of the Jury, atFestival Sup' du Court, Paris, France
Special Award of the Jury at Col.Coa Film Festival, Los Angeles, USA
Special mention of the Jury at Courts dans la Foret Festival, Rambouillet, France
Best European Movie at Arcipelago Festival, Rome, Italy
Best First Movie at Filmvideo Festival, Montecatini, Italy
Giuliano Birindelli Award for the Best Fiction at Filmvideo Festival, Montecatini , Italy
Coppa Memoria d'Acqua Award for the Best Actor at Filmvideo Festival, Montecatini, Italy
Audience Award at FatFilmFestival, Fattizze, Italy
Grand Prix of the Jury ex aequo at Festival Cinéma etc., France
Audience Award at Des Courts en Hiver Festival, Porto Vecchio, France
Awards for the short movie "Dans l'armoire (Inside the wardrobe)" :
Best Production Design at Grand Off Film Festival, Warsaw, Poland
Best foreign movie at Liverpool Independent International Film Festival, UK
Best Film at Jelly Film Festival, Los Angeles, USA